Unlike getting a vacuum cleaner for Christmas,  tool kits are a practical – and welcome – gift for the budding Fix-It-Yourself-er, the new homeowner, and the seasoned handyperson, too.  A tool set, with its neat array of shiny gadgets suited to a wide variety of projects is an invitation to self-reliance, creativity, and saving money.  What's not to love -right? 
Here are our our favorite tool kits for the DIY lovers in your life:
1.  Never too young to start pounding, sawing, sanding, and screwing.  (No, I didnt' really say that, did I?  Well, you know what I mean.)  The Home Depot Ultimate Workshop will start the kiddies off on make believe repairs all around the house.  Features include four battery operated power tools that  make sounds and move,  a whole bunch of durable plastic hand tools, an adjustable shelf, and safety goggles.   $49.99 from Toys R Us.
2.  When junior starts clamoring for the real thing, this  9 Piece Tool Set for Kidsmade by Grip is the way to go.  Sized for kid-sized hands, this set has just about everything needed for most building and woodworking projects.  These tools are not toys, and should be used only by children ages 4 and above, with adult supervision.  $22.99 at Amazon.  
3.  For the college student home from the first semester of living in a dorm, Grip also makes a Dorm Room Tool Kit in your favorite college colors.  Shown here:  University of Michigan Maize and Blue!  The 9 piece set includes a 25′ tape measure, a 6 in 1 screwdriver, and a LED flashlight.  $14.99 at Amazon.
4.  If anyone on your list has recently purchased a new home, they probably don't have much money left.  An all purpose tool kit can run anywhere from $50 to a $1000 bucks.  Here are a few you can look at: 
When comparing tool kits consider warranty, case or bag for storing tool, and materials (i.e. wood or plastic handles).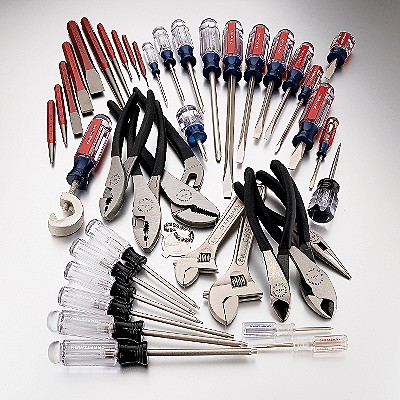 5.  For the handyperson who can fix anything that is broken, and already has every size wrench and screwdriver made, consider a tool kit addition for artistic projects.  This 17 piece beginner's woodworking set from Footprint Tools at $299 is a luxurious gift.  It can't all be about fixing the toilet, can it?
What do you remember about your first tool kit?  Do you have a kit that you love?  Add your recommendations in the comments below. 
by Lisa Oram