This is a horrible confession to make: I don't have a toolbox.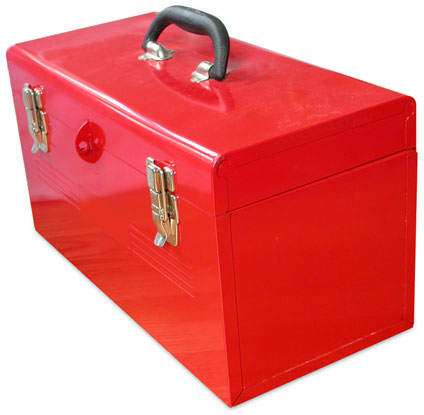 I have a bag with various pockets that holds many of my tools (in an organized fashion), as well as a socket wrench set and a few other items.  But I suppose that a toolbox is in order.  I'm hesitant because I've seen what my Dad accumulated when he got a massive toolbox on wheels.  The thing weighs so much that I can't move it without a running start (I'm not kidding—it weighs a ton).
And while it may sound wrong to write this on FIY, I never want to gather that many tools.  I've seen Hoarders  on TV and have no desire to be on that show profiled as a freaky tool collector guy.  Unless the money is right, that is…
So as toolboxes go, the LIFT-n-LOK  may be just what I need.
Featuring a unique automatic fastening system that eliminates latches, this toolbox is designed to keep all of your tools separated into their own compartments.
A cam attached to the handle lifts as the handle is raised, which reduces the gap between the drawers and locks them in place.  You can then carry it around without worrying about small items (such as nuts and screws) leaping into adjacent bins.
At 16.5″ wide x 16″ tall x 11.25″ deep, the LIFT-n-LOK has plenty of storage space.  The three drawers are each 1.75" deep, with the top drawer containing 10 dividers that can be removed as needed.  The middle drawer contains 5 removable dividers, while the bottom is partitioned into three zones.
And look at all of the pretty colors!
The LIFT-n-LOK isn't just for tools.  It makes  a great tackle box or a storage bin for art supplies.  All of you bead hobbyists take note!
by John Barker